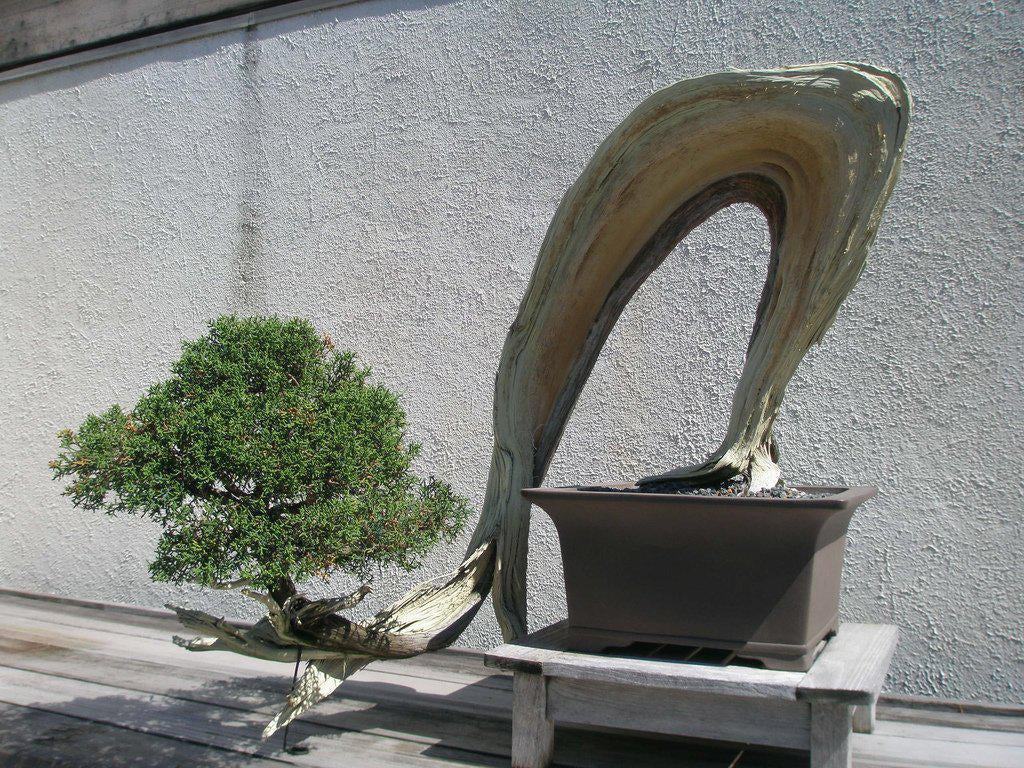 There Are No Rules When Building A Bonsai For Yourself
When we talk about bonsai styles, we inevitably have an "other" category.
This can be anything, literally anything, that you think would look good.
You could build a Christmas scene, recreate something you've seen in person like a tree in a city sidewalk, you can create a group of multi-trunk tree's on 1 giant rock, or something altogether unique.
Remember, bonsai is first and foremost an art.  That means there are no rules.
If you're a bonsai pro building trees for the general public to buy, well then you gotta keep it to the basics.  Create the trees that 90% of the people will enjoy.
But if you're in this for yourself — to help you feel relaxed and calm, to add beauty to your home, your yard and your life, do what makes you happy.
THERE ARE NO RULES!
Do you want a tree that has a ton of deadwood and barely anything living?  Do it.
Or a bonsai that is planted in a cut wine bottle?  Do it.
Design your idea of beauty, and you'll create your own personal masterpiece.
Now, for the pictures 😃
Do you want to build your own bonsai tree, but don't know where to get started?
Are you sick of killing every bonsai tree you buy?
If you want to demystify the art of bonsai so you can become a master of this relaxing hobby in just a few days, you need the right training. I've build a digital video course that mixes classroom style instructional videos with "over the shoulder" style training videos to make bonsai simple to understand, and easy to start.
In this digital video course, you'll discover:
How to create a bonsai tree from scratch that will help you experience true inner-peace and calm.
How to keep your tree collection alive and well so you can enjoy their benefits for a lifetime.
How to shape your bonsai like a professional, allowing you to design it however you like.
What bonsai tools you really need and how to use them so you'll never buy a tool that you don't need again.
How to cultivate your own trees so you never have to buy another tree from a store again.
How to use all of this to create your own bonsai collection so you enjoy this relaxing hobby for the rest of your life.